Programa de Lenguas
Basic Skills for Reading and Writing MONDAYS
Basic Skills for Reading and Writing is a 4 credit blended course designed to help you integrate and put into practice strategies that will help you become a more proficient and confident reader and writer in the second language, at a beginner/elementary level (A1/A2). We will devote time to developing critical thinking skills, building new vocabulary and learning how to deal with unknown words, as well as working with writing skills from sentence level to paragraph development.
Online: 3 h/semana

Presencial: 1.5 h/semana

Idioma: Inglés

Institucion: UTEC

By the end of the course, students will:
– learn basic literacy strategies and be able to apply them in their university courses.
– become more competent readers in English, understanding beginner/elementary level articles and manuals, among other texts of technical content.
– become more competent writers of beginner/elementary level texts in English, especially summary or abstract paragraphs.
– learn how to use a dictionary and understand new meaning from context.
– become more autonomous learners.
Habilidades y competencias a desarrollar
* Reading strategies: previewing, predicting, skimming, scanning.
* Using a dictionary and understanding meaning of unknown words from context.
* Critical thinking skills: identifying arguments and supporting evidence in a text, distinguishing between facts and opinions.
* Classifying words into the correct part of speech according to their function in the sentence.
* Identifying the parts of a simple sentence and the constituent elements of a good paragraph.
* Engaging in the writing process to produce correct simple sentences as well as complete and coherent paragraphs.
* Time management skills and learner autonomy.

To pass this course, you must:
– Attend all lessons (please read Syllabus and Wellness Statement).
– Participate actively and responsibly during lessons.
– Complete 80% of online component (written productions and activities on EDU).
– Complete the final assignment (30% of final mark).
Perfil del
Participante
UTEC students and other members of the community with a beginner/elementary level of English (A1/A2 as to CEFR) interested in developing their reading and writing skills in this second language.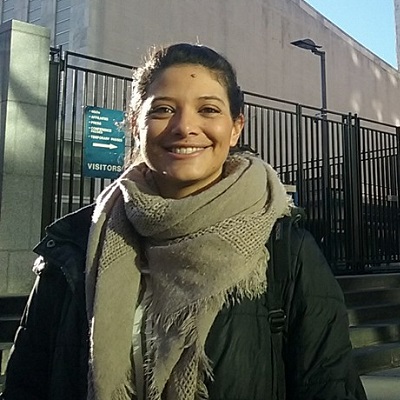 Victoria Soumastre
Professor at UTEC
Prof. Victoria Soumastre is a teacher of English as a foreign language at ITR Suroeste (UTEC) and «Consejo de Educación Secundaria» with a teaching degree from «Instituto de Profesores Artigas» (Montevideo, 2009). She was a Fulbright FLTA and teacher of Spanish as a foreign language at Merrimack College (USA) in 2015-2016. Born in Mercedes, Uruguay, but living in Montevideo, she is currently studying International Commerce at UDELAR.
Este curso es parte del

Programa de Lenguas

de UTEC